SQLRally 2011
The Best SQLRally Ever! – Thomas LaRock. (twitter | blog)
Overview
Came prepared with a brand new twitter account and 1 follower. Spam. Hey, at least I'm popular. Don't know how to delete them, but not sure that's a bad thing at this point. I left the conference with about 20 followers so I hit the big time! Met some great people in the community, as well as some friends from the sqlservercentral.com forums. The event provided both technical training, but more importantly, professional networking. I also had a small part in Kevin Kline's (twitter | blog) Overdrive session entitled "Conducting an Interview", so I'll be a little more verbose about that.
Arrival in Orlando, FL
Sitting at the airport in Austin, TX, I pulled out this new Twitter thingie to see who's talking about #SQLRally. At least I knew how to do that. I saw a tweet from 1 minute ago from Wes Brown (twitter | blog) that he is waiting for his flight. A quick room scan and found that he was sitting about 20 feet to my left. The flight was not packed, so we sat together and talked shop, family and pretty much everything under the sun. I was sitting next to Wes after all. We had many things to catch up on since we are working together to grow the local User Group. It was a delightful and entertaining flight; how could it be anything else given the company I was in.
Wes isn't too hip on driving in a strange city when he can help it and he was going to take a cab. Nope. Not going to happen on my watch. I got a car and was quickly enlisted as his personal chauffeur apparently. I was staying at the hotel where the event was held (so I didn't have to drive much), and he was not <sigh>. But in all seriousness, it was my pleasure to drive in circles and chat with Wes as much as I could. Wes was my Nag-ivator using his phone to guide us.  Man, we start talking and the conversation is so interesting, we (I) stop paying attention to the road and the GPS. They should outlaw Wes talking while driving through school zones.  Really, I was driving in circles to hear more from Wes; it's like a personal seminar! Dropped off Wes, and I drove back to my hotel.
A quick late night stop by the amazing [closed] hotel pool kept me longing for a swim sometime this week. The pool closes at 11p though. How can I fit that in with all of the SQLRally coolness?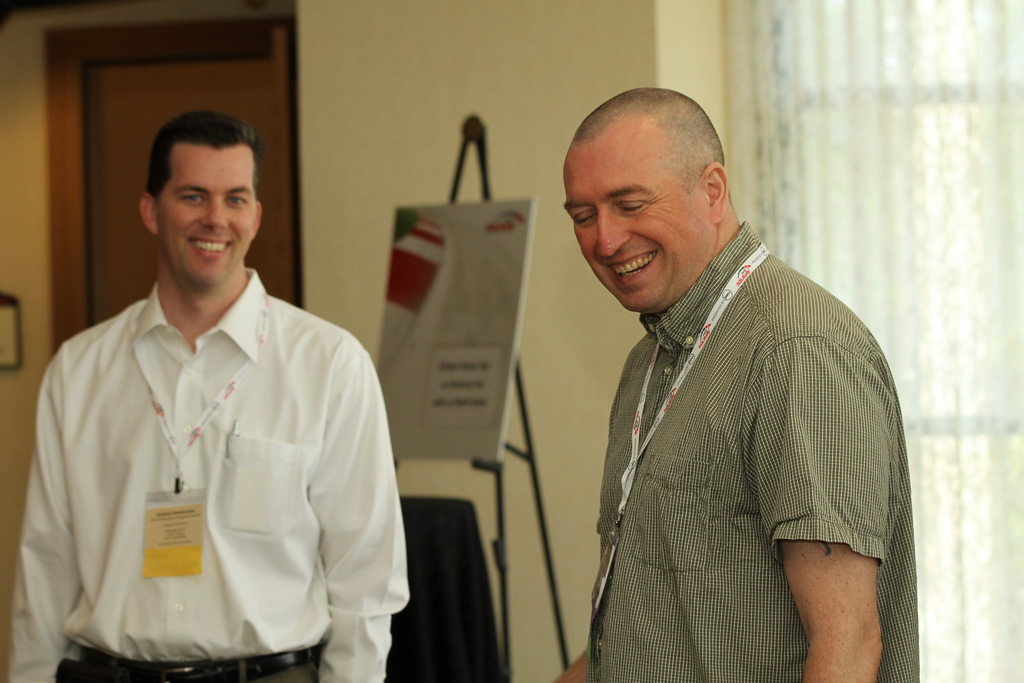 Day 0 – Pre-conference Seminar
Query Performance Tuning, Start to Finish with Grant Fritchey (twitter | blog)
I sat in the front row to ensure I could hear Grant when he wondered around without a mic and so I can see the slides/code no matter his resolution. Plan worked perfectly, except that I was awe-fully scared. I knew this was going to be a fun ride when he was shadow boxing on stage 'warming up' for the event. Literally. I took it as a complement that he feared his #1 groupie (twitter | blog) might rush the stage. I've been working out lately, which obviously made Grant feel threatened. I am up to 1.5 pushups now. I know, right? Watching Grant warm up encouraged me to continue my floor-time struggles because the effort is clearly paying off. Course, I was too scared to say this to his face so I put it on my blog. Watch out Grant!
On lunch, I checked out the vendor booths, but most were unmanned. Met Jack Corbett (twitter | blog) and found him to be much taller than the legend. He came up to my hip at least. I had the urge to pick that little fella up and and sit him on my make shift seat made out of my elbow so we could talk, but I couldn't find any strings behind him in which to pull. His mouth moved automatically anyway. You should have seen him guarding the vegetarian lunch boxes, turning away carnivores and ensuring herbivores produced an amulet first. Reminded me of a troll but better looking (a troll, that is). Kidding aside, Jack is a great guy. Full of life and smiles and a very kind disposition. And in case anyone hasn't heard, he looking for work in the north east where he is moving in a few months.
Dinner was at Buffalo Wild Wings. Met Julie Smith (twitter | blog), Randy Knight (twitter | blog) and Brian Moran (twitter). Had a brief meeting with Kevin Kline to review the outline and goals of 3 skits for his Overdrive part. We all picked who would play which role to demonstrate poor interviewers. More on this later.
Twitter follower count at the nights end: 3 (including the spam which I still didn't know how to remove).
Day 1
The sessions were great. I won't review them in detail, since other folks are doing that. I will note a high point. On day 1, I decided against hearing Wes' session because I thought it would be 100 material and I heard his awesome session at SQLSaturday 63 in Dallas. Would have learned stuff for sure, but I opted for a SQL Azure session since I am currently writing a few articles on that topic for sqlservercentral.com and I wanted to see if there was anything that I hadn't thought of before I finish the article.
In hindsight, I heard how awesome Wes' session was and that he covered some 200 and 300 stuff to boot. After feasting my eyes on about 40lbs of tweets about his kick-butt session, I realized that I should have been in there, both to support my fellow Austonian, as well as get taken to school on storage. My loss big-time. I'm hoping his session will get picked up for the upcoming PASS Summit and I can catch it then.
I also had a nice chat with SQL Server MVP Thomas Grohser (twitter) and Wolfgang from across the Atlantic. Great guys packed with tons of knowledge. Wolfgang was especially 'bright' with a constant smile from ear-to-ear. Would have liked to talk with them more.
Overdrive Panel: Conducting an Interview with Kevin Kline.
Kevin's vision for the overdrive panel was to show three bad examples of how to interview someone. The format was a brief introduction by Kevin, and each of the three skits for 5 or 10 minutes, followed by a group discussion to analyze the skit for 15 minutes or so.
The role of 'The Buddy' was played by SQL Server MVP Jen McCown, 51% of MidnightDBA (twitter | blog). Jen did an awesomesauce job showing how an interview can turn from a technical interview to something not job related in a topic in which the two have in common. Once they figured out they both blog, they rambled on about it for a day and a half. Figuratively, a day and a half. It was a job well done and a fine example of what not to do. Great job on that one Jen.
Next up: 'The Overworked & Overimportant", played by SQL Server MVP Mike Walsh (twitter | blog). Mike was way too busy to be bothered with this interview. Didn't pre-read the resume, took a phone call during the interview process, checked his email instead of listening to the interviewee, etc. It was quite a show! By the time they were done, I'm pretty sure the interview was mostly about Mike since he was so important to the company.  And yes Mike – we know you're an MVP!
Lastly, 'The Talker' played by me (twitter) and assisted by SQL Server MVP Tim Mitchell (twitter | blog). The goal was to demonstrate the kind of interviewer that is uncomfortable with 'dead air' and is moved to fill any dead spots with rambling, question restating and telegraphing the desired answer. I think Tim and I pulled it off nicely with the interruptions becoming more and more frequent and the desired answer becoming more and more obvious. The opening question was close ended (yes/no), which Tim answered appropriately, followed by an awkward silent stare for a few seconds. That seemed to set the stage for 'The Talker' to want to prevent that from happening again!
I think it helped that we both worked together ahead of time to cowrite the questions and we also rehearsed a brief piece to practice the timing. Tim has excellent comedic timing and the skit was quite fun. We were not intending to make this a stand up routine, but the crowed was in stitches (they must have been serving drinks). Not everyone was laughing though. Upon returning to our seats, Mike Walsh was crying. Probably because Jen beat him up. That's the most likely cause that I can think of.
It was great fun, but most importantly, it opened up some fantastic dialog between Kevin and the audience to pick these three examples apart and learn from them. My most valuable lesson learned: don't sit at the table next to Jen or she might beat me up and take my lunch money. Sean – I feel for you.
Then we had dinner at Kool Katz in Old Town. Sitting adjacent to me was Mark Ginnebaugh (twitter | blog), Brian Moran, Vicky Harp (twitter), Mark Tabladillo PhD (twitter | blog), Jorge Segarra (twitter | blog), and Russ Priesing (twitter). Talked business strategy with Mark G and also discussed Brian's PASSt.  Although I sat right across from SQLChicken, we didn't say two words to each other; just too much going on.  He went to mingle after eating and the waiter wondered if he dine'd and dashed.  We assured that someone would take care of it.  And someone did. Next time, maybe I'll have a chance to speak with him.
Got back to the hotel pool: closed again.
Twitter follower count at the nights end: 10.
Day 2
Andy Warren (twitter | blog) and I had a chat about future SQLRally event strategies and ideas since this one was so successful. I had a product improvement discussion with Grant and Phil from RedGate Software.  That company is very responsive to customer feedback.  I like that.
Had a pleasant lunch with PASS Director Mark B, and PASS Board member Bill Graziano (twitter | blog), and MVP Tim Mitchell among others. Talked more business strategy and airports.
Dinner was a bit different. Wes and I drove together to meet Tim, SQL Server MVP Stacia Misner (twitter | blog) and others for sushi because Wes demanded a private chauffeur. After driving in circles for a while, we ended up at the wrong branch of the restaurant. The GPS didn't show any other locations, but their menu did. We decided to walk to another place for dinner since it was just the two of us. Talked about all sorts of topics and how things were growing up.
Ended up being an early night, although Wes was already a pumpkin when I met him. Nagivated in circles to his hotel, then drove my hotel. Guess what, it was only 9:30p. Pool is open! Finally. Changed and brought my iPad to the pool. After iPadding (verb) for about a minute, my red blood cell count was plummeting from the skeeters. So I ended up in the water pretty quick. Nice pool. Felt wealthy while staying in this hotel, but it wasn't long before reality set in after I checked out.
Twitter follower count at the nights end: 19. The good news is that Wes mocked me and then taught me how to block the spammer. He said: 'Did you just get a twitter account last week or something?' My reply: 'Yes, and I had a follower all week!'
In the morning, checked out, picked up Wes and drove in circles to the airport.
Wrap Up
Now that SQLRally is over, its back to the daily grind. I found SQLRally to be a very successful event. Successful in training since there were lots of high quality 1's and 0's mentally downloaded in the sessions. Successful in business networking because there were plenty of in-between session slots and after hours events which gave ample time to mingle. Most importantly, the 'air' was such that everyone was approachable.
This was the first SQLRally ever, but it will definitely not be my last! If you have not yet plugged into any community events (PASS Summit, SQLRally, free SQLSaturday or free User Groups), I encourage you to seek them out. You will increase your knowledge quicker and with better quality, and you will form friendships with bright people for years to come.  SQLRally was a great event, but I have to admit, it has really wet my appitite and I am going to be sure to make my first PASS Summit this year in October.  I've already made arrangements in my schedule to ensure I can attend.
THANKS PASS!