The blog has been quiet over the Winter, so where have I been lately?
Simply put: On the road with the SQL Server community! I've been doing a lot in the community lately, as well as having our busiest Winter ever with SQLWatchmen.  So instead of making a bunch of blog posts about what I've been up to, I decided to just make one big itinerary.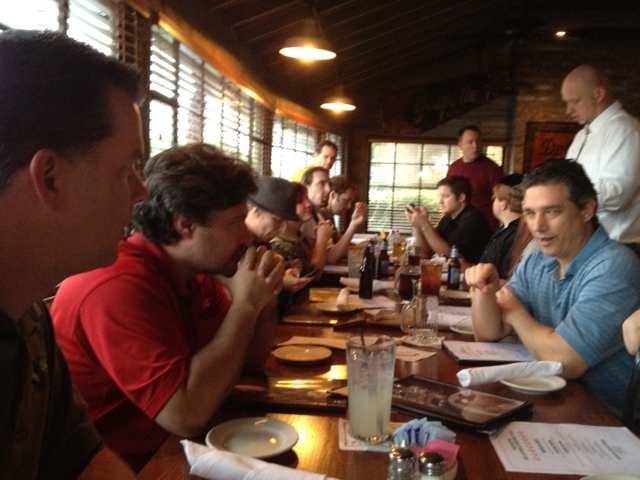 Over the past few months, I have:
1) Presented at the CACTUSS Central SQL Server Users Group in Austin on the topic of AlwaysOn. This was on September 20, 2011.
2) Co-Coordinated SQLSaturday 97 in Austin on throughout August and September.
3) Spoke at SQLSaturday 97 In Austin on AlwaysOn using CTP3 on October 1, 2011.
4) Attended the PASS Summit in Seattle for the first time on the week of October 10, 2011.
5) Attended the annual Iron Speed MVP Summit in San Jose and met with fellow MVPs from around the world. This was the week after the PASS Summit (week of October 17, 2011).  I actually flew straight from Seattle to San Jose and didn't return back to the office for two weeks straight.  That was rough.
6) In November and December, I prepared for and presented a three hour webinar each month on C# development with SQL Server.
7) On January 7, 2012, I flew to Colorado Springs to give the AlwaysOn presentation there. They put me in the Auditorium and there was probably about 60 people in attendance there, but I didn't count.
8) Went on a traveling road trip, speaking throughout the middle of the state of Texas presenting my AlwaysOn session. The first stop was at the SALSSA SQL Server Users Group in San Antonio on January 18, 2012.
9) Then the following day, drove up to Dallas and spoke at the NTSSUG SQL Server Users Group to a large and enthusiastic audience of 83 people! That is a big users group.  That was on January 19, 2012.
10) On March 10, 2012, I was in Tampa, FL at SQL Saturday 110 where I enjoyed presenting my AlwaysOn session.
11) On April 16, 2012, I presented my AlwaysOn session to the CACTUSS Central SQL Server Users Group.
12) And I just returned from SQL Saturday #107 in Houston where I presented my AlwaysOn presentation on April 21, 2012.
I think that is a lot of community activity and traveling, so my blogging suffered a bit lately. I know, not an excuse. I'll get better at not being a perfectionist so I can 'just blog'. I'll also get better at not making excuses.
On top of the above 'external' activities, I have also been busy with 'internal', or less visible community activities:
13) Running a SQL Server Users Group (CACTUSS Central meetings). Well, this one is kinda visible.
14) Sitting on the board of POSSE.
15) Going through the election process with POSSE where I won a 2 year board of directors position and continue my role as the Treasurer.
16) Beginning the early planning stages for our 2012 Austin SQL Saturday (Finding venues, finding sponsors and deciding who should be on this years planning committee).
Well, no one has ever accused me to lacking passion for the community.
17) Oh ya. Almost forgot, I've been running a DBA consulting company, where we have been experiencing a lot of growth requiring that I hire two new staff members in Q1 2012. We also moved into a larger office location on February 24, 2012.
Is that why I haven't been sleeping much lately?!?