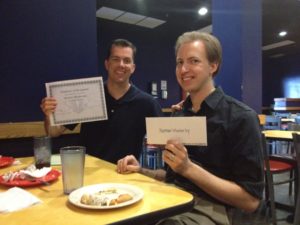 SQLWatchmen company lunch was at
GattiTown
this quarter. As soon as we got in the door it was a mad dash to the pizza buffet. Everyone piled their plates high with pizza and we made our way to the cartoon room. After we finished eating and sipping soda an announcement was made that the company was going to begin implementing Employee of the Quarter. I also explained to the team that the winner of Employee of the Quarter would be someone that performed above what was expected of them on projects. Which in this office the team makes it very difficult to choose just one winner.
Congratulations Nathan Wimberley!
For Q4 in 2012 Nathan Wimberley was announced as our Employee of the Quarter for his extraordinary execution on a very time sensitive project. Nathan was presented with a signed certificate, and a gift card. I also took this opportunity to commend the entire team for all their hard work in the year 2012. The team seemed very eager to see who will win Employee of the Quarter for Q1 in 2013!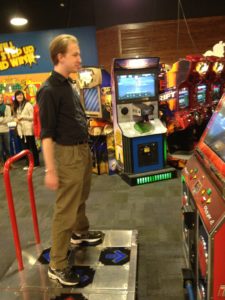 Once we were filled with caffeine and pizza it was off to the game room. The company bought everyone token cards to play a few games. The team really enjoyed playing good old games such as, Skee Ball, basketball, and air hockey. Some of the many highlights of the day were the bumper cars, watching Nathan dance on the Dance Revolution game, and winning 400 tickets on a Deal or No Deal game of chance!! In the end we combined all our ticket earnings that totaled 1,750 tickets! It was difficult for the group to choose from all the prizes. We finally agreed upon a board game for a future company lunch, splat balls, mustaches, small trinkets, and candy. All in all the team had a blast! It was refreshing to get out of the office for a few hours and just have fun with fellow team mates. These company lunches have proved to be a great way to show the office that they are appreciated, and helps us all form a closer bond so we are more effective when working together. Make sure you check back to see where our next company lunch will be held, and who will win Employee of the Quarter next! Do you have company lunches too? Tell us about them!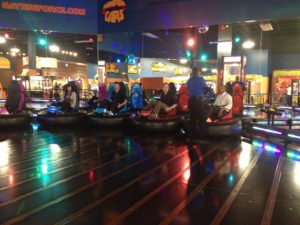 | | |
| --- | --- |
| Cotton Candy! | Skee Ball |