Red Gate SQL In The City (SITC) – Seattle
On November 5, 2012, I attended the Red Gate SQL In The City Seattle. It was fantastic free SQL training. I especially enjoyed the sessions from Adam Machanic (b|t), Brent Ozar (b|t) and Steve Jones (b|t). It was nice catching up with my many friends as well.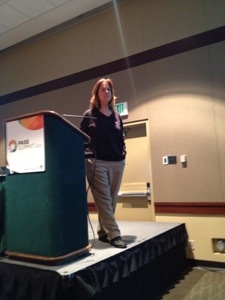 Kalen Delaney (b|t)
PASS Summit 2012 – Seattle
For the rest of the week, I was at the PASS Summit. Every year, this is the main event that I most look forward to. Thousands of SQL geeks fly in from around the world to attend, and the speakers are the best of the best.
I attended Bob Ward's precon. Mind blower. If you are far past the basics of SQL Server, then this is an awesome session! Very technical. It was a 500 level precon so it was not for those with weak hearts or other medical conditions. And of course, he pulled out the debugger. We expected nothing less!
While I was there, I was sure to attend the annual User Group Chapter Leaders meeting. As a chapter leader running the ###CACTUSS Central SQL Server Users Group in Austin, TX, I find this a great help to learn how other cities and countries and overcoming the challenges inherent to running a User Group. We are also kept up to date on the latest methods of ordering books, emailing our registration list, finding and organizing speakers and so on.
If you have never attended the PASS Summit, you will want to ensure that you attend each year. It is the best training on the planet, and you can purchase a DVD of the sessions to continue your learning when back in the office. Honestly, I have many friends from around the world who pay international flights on their own dime if their company won't pay. Yes, that is how valuable this event is. You don't want to miss it.
So if you are in the U.S., the decision to attend this event is a no brainer. See you next year in North Carolina!